Disclaimer: If you purchase through links on our site, we may earn an affiliate commission. Read More
Best Turntables 2023 – When it comes to listening to music, turntables will never get old. Even today, millions of people listen to vinyl records and enjoy music.
And if you also want to play your old/new records, it's time for you to get the best turntables 2023 which sounds great. If you're new to record players and turntables, don't worry. I will help you learn about turntables, how to use them, and how to find the best one from our reviews.
First and foremost, you need to know about turntables which are also known as record players. How they work and what are their different parts called. For this I have a cool infographic for you:
Beginners Guide to Turntables of 2023

How To Choose the Best Record Player In 2023
Criteria
Editor's Choice
Budget Option
Premium Pick
Compatibility with External Devices
Editor's Choice
Criteria
Compatibility with External Devices
Budget Option
Criteria
Compatibility with External Devices
Premium Pick
Criteria
Compatibility with External Devices
Choosing the best turntable which will play your records without damaging them is very important. There are many cheap turntables available in the market. But many of these will scratch your records. To some, it may not be a big deal but if you have a collection of rare turntables and do not want even a scratch on them, you must choose a perfect turntable.
Here are some important factors you need to keep in mind before buying a turntable:
1. Price Range
Turntables and record players are available in different price ranges. You can get turntables for as low as $100 and can also cost you more than $500.
Depending on your budget, you can go for turntables. But remember this:
If you want a turntable with good sound quality and features, it will cost you some money. So first, fix your budget and then take a look at the next factors.
Here are some best turntables under $200.
2. Belt Drive Vs Direct Drive
The next important step is to choose between a belt-drive and a direct drive turntable. Belt drive turntables have their motor located off to the side while indirect drive, is mounted under the platter.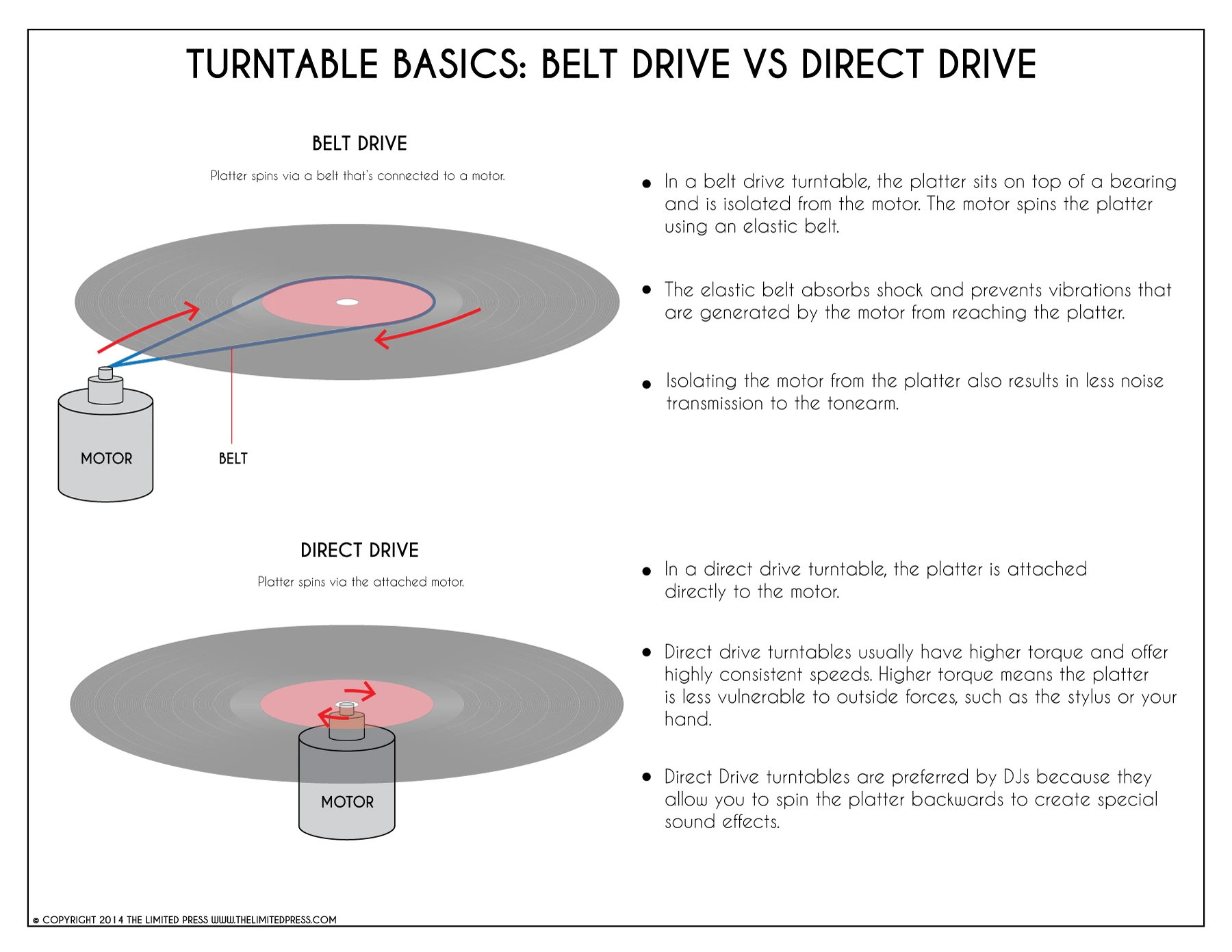 Audiophiles consider belt drive consider to be much better because it absorbs shock, prevents vibrations generated by the motor from reaching the platter, and also results in less noise transmission.
Direct drive turntables are preferred by DJ's because they offer more constant speeds, less noise distortion, have higher torque. You can spin direct drive turntables to produce different sound effects which many disk jockeys do.
So I would recommend you to go for a belt-drive turntable because it's a better option if you're a novice and want to get a good sound quality.
3. Automatic Vs Manual
Turntables come in two different forms: Automatic and Manual.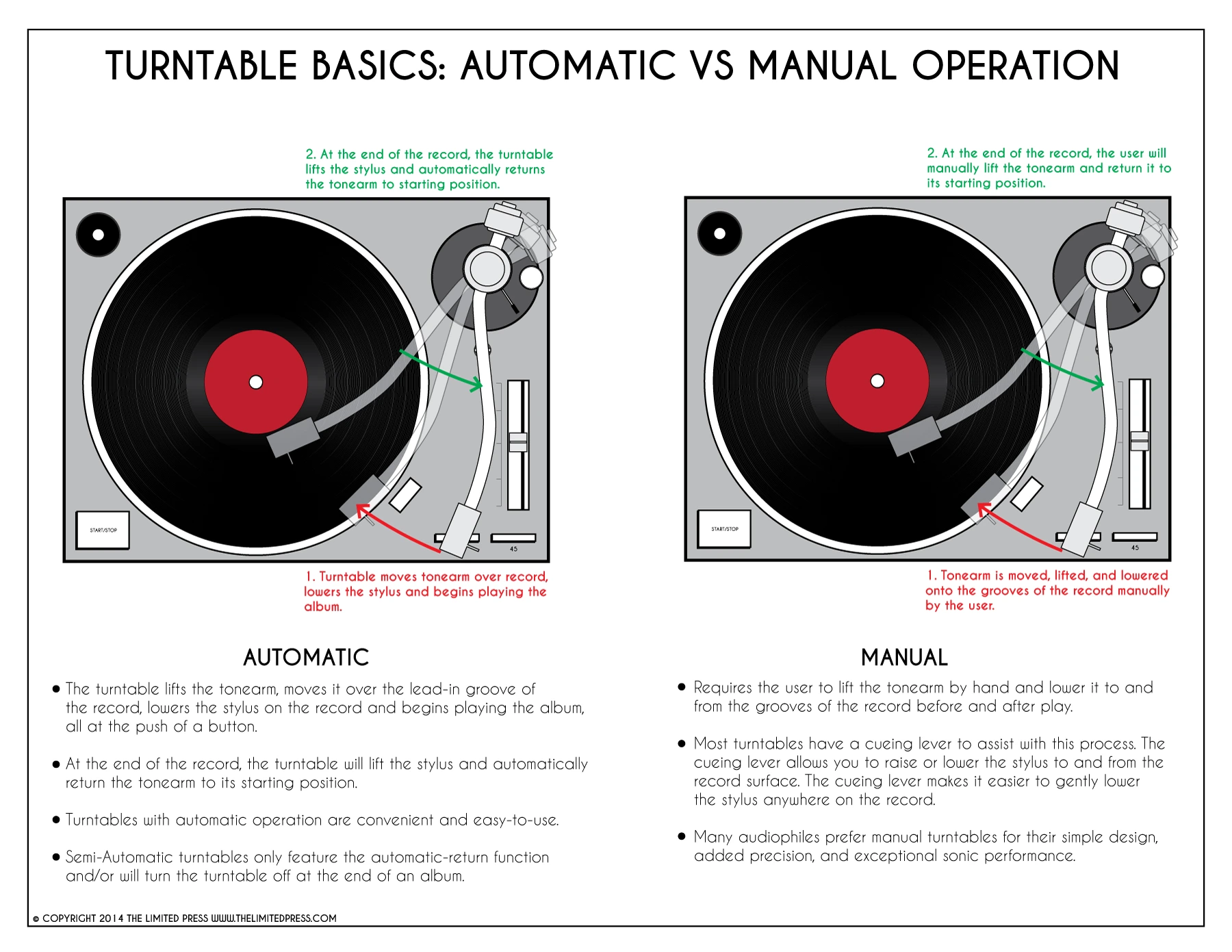 In an automatic turntable, you can play records with a push of a button.
In a manual turntable, you will have to lift the tonearm and then return the tonearm to the starting position.
If you're new to turntables, then an automatic turntable is a good option for you. Because while using a manual turntable, you might scratch your records. But still, it's not a big deal. After a few attempts of using a manual turntable, you will get used to it.
4. USB Vs Non-USB
Having a USB port in a turntable is very important because, with the help of it, you can connect your turntable to your computer and also digitize your records by converting them into MP3 format.
So before buying a turntable, make sure it has a built-in USB port.
5. Upgradable
Even after looking at the above factors, this is very important. Why?
Because some parts of a turntable get worn off after use and will result in bad sound quality. These parts include cartridge, tonearm, etc.
Before buying a turntable, check if these parts are upgradable. Although many brands provide turntables whose parts can be upgraded but it's better to check before buying.
Best Record Players 2023
Top 4 Best Turntables Reviews of 2023
1.Pioneer DJ PLX-1000 Professional Turntable
Pioneer DJ PLX-1000 is a professional turntable that has been designed to meet the needs of DJs and club owners who want to get the most out of their vinyl collection. It features an innovative new design, high quality components and a range of useful functions. The PLX-1000 comes with a built in phono preamp and headphone amp so you can plug your headphones directly into it for listening to music on the go.
The PLX-1000 also includes a USB port which allows you to connect your mobile device or laptop computer directly to the turntable via its USB connection. 
The PLX-1000 turntable can also be used as a portable CD player and MP3 player. Its USB port can be used to connect an iPod touch or iPhone. It also supports SD cards and USB flash drives.
The PLX-1000 is equipped with a powerful motor system that delivers smooth rotation at speeds up to 45 RPM. Its speed control knob makes it easy to adjust the speed from 33 1/3 to 45 RPM. A direct drive belt system ensures accurate tracking and long life. The PLX-1000 also features a large platter surface area that provides plenty of room for playing records.
The PLX series are all made from aluminium alloy and finished in black powder coated finish. They have a compact size and lightweight design making them ideal for traveling DJs and club owners.
What We Like
Compact size and lightweight design
Built in phono preamp & headphone amplifier
Direct drive belt system
Large platter surface area
Speed control knob
USB port

2. Audio-Technica ATLP1240USBXP Direct-Drive Professional DJ Turntable
The AT LP1240 USB XP is a direct drive turntable that features the same high performance motor as our professional models but in a smaller package. It has an integrated USB port for digital playback of your favorite music files on any computer or device with a standard USB connection. This model also includes a built-in analog output so you can connect it directly to a mixer or amplifier for use with vinyl records.
With AT LP1240 USB Xp, you can enjoy smooth and quiet operation with a belt driven direct drive system. Its precision bearing system ensures long life and accurate tracking of the record. A special low torque start up feature allows you to easily set up the unit without having to manually turn the platter by hand. The AT LP1240 is designed to be used with all types of vinyl records including LPs, EPs, singles, and even 7″ discs.
The AT LP1240 USB xp is available in black only.
What We Like
Belt driven direct drive system
Precision bearing system ensures long life and accurate tracking of records
Special low torque start up feature allows you to easily set up unit without having to manually turn platter by hand
Includes built in analog output so you can connect it directly to mixer or amplifier for use with vinyl records
Comes equipped with audio technica's premium anti-vibration mat
Easy to read led display shows current speed, time remaining, record mode, playback mode, power on/off status, battery level, and other information

3. Fluance RT85 Reference High Fidelity Vinyl Turntable Record Player with Ortofon 2M Blue Cartridge
With the Fluance RT85, you get the best of both worlds when it comes to high fidelity vinyl turntables. It's built to last and it sounds great! This player has been designed for those who want an affordable turntable without compromising on quality or performance. With its solid construction, this player will be around for years to come.
In comparison to previous models, the RT85 has a new motor design that provides more torque. This means you can play your records at higher speeds and still get the same sound as before. The RT85 also comes equipped with a new cartridge that uses a blue Ortofon 2m stylus. This cartridge produces a wider range of frequencies than other cartridges available today. In addition, the RT85 includes a speed control motor that allows you to adjust the playback speed from 33-45 RPM. You will therefore be able to listen to all your favorite music regardless of where you are.
The RT85 is made using premium materials such as aluminum, brass, steel, and wood. It is chosen because these materials are durable and high-quality. The platter is constructed out of acrylic so it won't warp over time. The platter is also coated with a special finish that protects the record surface from scratches.
This model comes with a black piano finished plinth and feet. You can choose between two different finishes; white, black, or red.
What We Like
Solid Construction
Durability
Great Sound Quality
Affordable Price

4. Gemini TT-1100USB Professional Audio Manual Belt-Drive Classic USB Connectivity DJ Turntable with Adjustable Counter Weight and Anti-Skating Controls
The Gemini TT-1100 is a belt drive turntable that features an adjustable counter weight, anti-skating controls, and classic USB connectivity. It has a built-in speaker system for use as a portable audio player or to connect to your computer via the included USB cable. This model of the Gemini TT-1100 comes with a free copy of Audacity software.
Users of all levels can use the Gemini TT-1100. Beginners will find it easy to set up and operate while more experienced users can fine tune the settings to get the most out of their music collection.
What We Like
Easy to Use – The Gemini TT-1100 includes all the basic functions you need to start using it right away. You don't have to worry about setting up any additional equipment such as speakers or cables. Simply plug in the supplied USB cable into your computer and turn on the Gemini TT-1100.
Portable – With its compact size, the Gemini TT-1100 is perfect for traveling. It's small enough to fit easily in a backpack or suitcase but big enough to hold a large amount of CDs or vinyl records.
Sound Quality – The Gemini TT-11000 provides high quality sound reproduction at 44.1kHz/16bit resolution. From the low frequencies to the high frequencies, it delivers clear, crisp sound.
Built In Speaker System – The Gemini TT-1110 includes a built in speaker system so you can listen to your music without having to purchase separate speakers.
USB Connection – The Gemini TT-1100 allows you to play your CD or record collection directly from your computer. USB cable included with Gemini TT-1100 allows you to transfer files to and from your computer.
What We Don't Like
No Power Supply Included – The Gemini TT- 1100 does not include a power supply. If you want to use this unit outside of your home, you'll need to bring along a battery pack or AC adapter.

FAQs – Top Record Players Under $200
How does the Victrola compare to other record players?
The Crosley and Victoria brands are entry-level. For the price, they make good record players, but their quality will not impress. They have poor sound quality and limited features. Still, they're decent.
Is Crosley a good record player?
Crosley record players are a good place to start for vinyl collectors. Crosley record players are ideal for casual collectors as they are among the high-end record players available online.
Which is better: Victrola or Crosley?
The sound quality of a Victrola is better than a Crosley, so the brand is the better option. Even so, Victrola offers a wide range of design options, so it is worth the slight premium.
Lenco makes good records, right?
Its features and – most importantly – sound quality make the Lenco L-400 stand out among the competition at that price point. It will keep your vinyl collection in good shape. It also looks great.
What is the life expectancy of Victrola needles?
If a needle hasn't been introduced to the record player, you can't tell how old it is. New needles have an average lifespan of 500 hours. Make sure your records are not damaged. New needles are costly. They will eventually need to be replaced.
Best Record Players Comparison of 2023
In the previous section, I've covered the 4 top turntables which you can buy. Now the below comparison table will help you choose the best one.
I've mentioned the features of these turntables so you can get an idea of which turntable is suitable for you.
So this was all about the Best turntables that you can get, if you are looking to know more about record players, then you can check out our other articles where we reviewed the best turntables under 100, Best Turntables Under $300, Turntables, Best USB Turntable for Recording Albums in 2023